See Black Bass at the 26th Woodworker's Showcase
April 1 & 2, 2017 / Saratoga Springs, NY
Black Bass Antiques will be exhibiting Antique Woodworking Tools this coming weekend at the Saratoga Springs City Center, 522 Broadway. Show hours are from 10am to 5pm both Saturday & Sunday.
Sponsored by the Northeastern Woodworker's Association (NWA), the show features woodworking competitions and awards, a special theme display, exhibits by guest organizations, ongoing free lectures and demonstrations, special exhibits and sales of products by national and area businesses.
For details on parking, accommodations, and nearby dining opportunities, visit
http://www.nwawoodworkingshow.org/information.htm
.
Our Bolton Landing Shop is open 10am-5pm on weekends through the spring – or by appointment: 518-644-2389 or 518-796-3445. Additional Black Bass Antiques can also be seen at the Antiques Marketplace, located at 650 State Route 149 and Bay Road, Lake George.
See More Black Bass Items at the Antiques Market Place!
Voted the Region's Best Antique Shop two of the past three years, this multi-dealer shop is unique in both the quality of its dealers and the treasures they display. Before moving in, our new building was totally renovated to enhance your browsing experience. It's clean and bright. There's also ample free parking, within steps of one of the area's most popular eateries –
Bistro LaRoux
.
The new shop is conveniently located at 650 State Route 149 and Bay Road, just a few minutes off both the Northway (Exit 20) and Rt. 9 – (less than 8-minutes from our former location at Sutton's Market. The shop is open 7-days a week year-round from 10:00am to 5:00pm. Phone: 518-798-0010.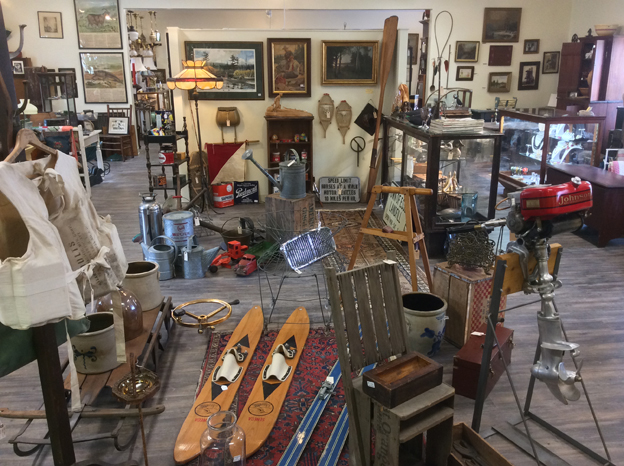 ---

Adirondack Mountains Antique Show
September 16-20, 2015 / Indian Lake, NY
This annual show featured everything from rustic camp furniture to hunting and fishing antiques, canoes, guide boats and taxidermy. The timing couldn't have been better. The weather was great, and the Fall foliage was magnificent.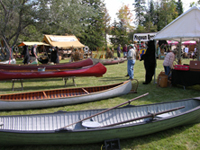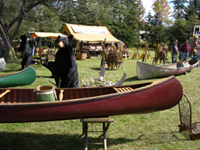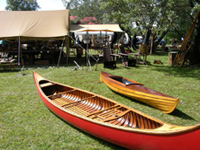 For details on next year's show, vendors and showgoers can contact Adirondack Mountains Antiques Show at P.O. Box 2, Indian Lake, NY 12842. Email:
ADKANTIQUESSHOW@gmail.com
---
Adirondack Museum's 2015 Antiques Show & Sale
September 19-20, 2015, Blue Mountain Lake, NY
The show featured dealers in quality antiques and art from across the U.S. – antiques at home in the Adirondacks. Showgoers found camp, cottage and mission furniture; historical fine art; rare books; antique sporting goods; folk art; vintage boats; quilts; Native American crafts and much more.
For 2016 show details, visit:
www.adkmuseum.org
---
Crossroads Angling Auction
October 30-November 1, 2015, Budd Lake, NJ
Show organizers bring 300+ years of combined Antique Tackle Experience to this popular fall event. They offer a full range of professional services at one of the Industry's lowest consignment rates. Held twice a year, this show and auction has always drawn favorable reviews and testimonials from showgoers and vendors alike.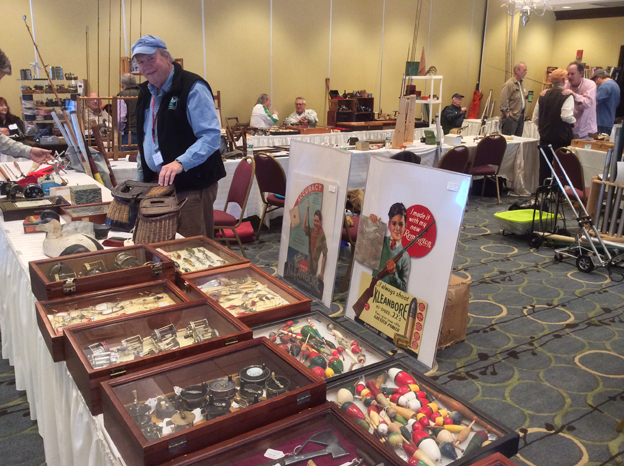 For show information, visit:
www.CrossroadsAnglingAuction.com.
You can also call Steve at
845-598-0888
, or email him at:
steve@crossroadsanglingauction.com
---