Black Bass will be exhibiting at the following Winter events:
NFLCC 29th Annual Region 3 Winterfest
January 5 & 6, 2018 / Pigeon Forge, TN
This event will be held at the Smokey Mountains Convention Center / Ramada Inn.  For additional information, call 1-877-686-6338. 
NFLCC Region 2 Winter Rendezvous
January 25-27, 2018 / Gettysburg, PA
This Region 2 event is being held at the Comfort Suites, 945 Baltimore Street, Gettysburg, PA. For hotel reservations, call: 800-334-6912. The show will open to the public at 9am Saturday, January 27. Public admission (and temporary club membership) is $5.00. For additional information, call Gary Lopez at 610-346-7708 or email him at
quickcatch@verizon.net
Florida Antique Tackle Show
March 2-4, 2018 / Daytona Beach, FL This year's FATC event is being held at the Plaza Resort & Spa, 600 North Atlantic Ave., Daytona Beach, FL 32118.  Show will be open to the public on Friday (11am-4pm) and on Saturday (9am-3pm). For additional information, contact The Plaza Resort at 866-500-5630 or 855-327-5292. You may also call Mike Hall at 904-424-7071, or email him at
flake@aol.com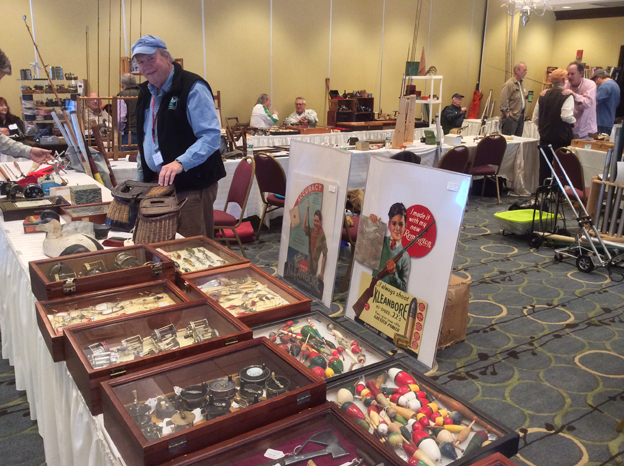 See More Black Bass Items at the Antiques Market Place!
Voted the Region's Best Antique Shop two of the past three years, this multi-dealer shop is unique in both the quality of its dealers and the treasures they display. Before moving in, our new building was totally renovated to enhance your browsing experience. It's clean and bright. There's also ample free parking, within steps of one of the area's most popular eateries –
Bistro LaRoux
.
The new shop is conveniently located at 650 State Route 149 and Bay Road, just a few minutes off both the Northway (Exit 20) and Rt. 9 – (less than 8-minutes from our former location at Sutton's Market. The shop is open 7-days a week year-round from 10:00am to 5:00pm. Phone: 518-798-0010.